Another wonderful hostess gift, or perhaps you can give Santa a hand with a stocking stuffer.
Make sure to get the A-OK from an elf first!
I was introduced to these wonderful soaps at Olive & Elle in Kelowna.
That store is a virtual wonderland of wonderful things!
Pre de Provence soap is utter luxury!
This French soap is quadruple milled, smooth, creamy and is scented perfectly!
My favourite is the lime, and sunflower.. or green tea.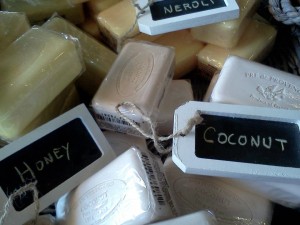 About Pre de Provence:
Since the Middle Ages, French soap masters have crafted exquisite natural soaps–sublime combinations of organic wonders and an ancient art. Pre de Provence Soaps are known as the finest in the world, a reputation built by the legendary savonneries and the enduring quality of their product. Their soaps provide gentle, moisturizing skin care along with subtle fragrances that will transport you to another world.