I came across a recipe for wraps. It appeared pretty straight forward, brown rice, yam, black beans, salsa and avocado. Truthfully I didn't hold out much hope for this to be a fabulous wrap.. but it fit my food requirements and seemed easy enough.
Good News. Seriously AWESOME!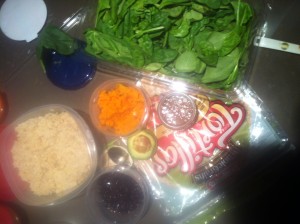 Here are the specifics:
1.5 cups short grain brown rice
1/2 cup sweet brown rice
4 cups water
pinch of sea salt
1 yam, cut into large chunks
3 cups cooked black beans, or 2 cans
1 large avacado, mashed
Salsa (Ana's Aji Columbian spicy relish is amazing on this.. you can get it at the Calgary Farmers Market.)
mixed green (I used spinach)
Brown rice tortillas
1. Preheat the oven to 425
2. To cook the rice, place the short grain rice, sweet rice, water, and sea salt into a big pot, cover and bring to a boil. Reduce heat and simmer for about 45 minutes. Remove from heat and let stand for 10 to 15 minutes.
3. While the rice is cooking, place teh yam chunks into a small casserole dish, fill with about 1/2 inch water, place the lid on teh casserole dish in the oven for 45 minutes. Remove skins from yams and mash them with a fork.
4. To assemble a wrap, lay a tortilla flat onto a plate and place a small amount of rice in teh middle of it, add some cooked black beans, some mashed yams, mashed avocado, salsa, and some mixed greens. Fold the ends in and roll.
FYI: It's good hot or cold!
BTW: I found this in The Whole Life Nutrition Cookbook