Aspire Health and Performance Fitness Girl With Goals
These three things are not necessarily for everyone but they impacted my life in enough of a way that it should be shared.
Here we go! Three easy things to do that will make life better.
Number 1
We shall start with an Affirming Password!
How many passwords do you type in the day? Make them work for you!!
Try: Iamhappy, NoSmoking, DrinkMoreWater, or Itisanawesomeday!
Use what ever will help you have the best day you can. The little things can make a difference.
Number 2
Don't take this the wrong way, but my weekly blow has changed my life!
Seriously. Once a week I visit Ashley at Cream Salon on Ellis and she "blows out" my hair. My hair has never been better! Our Grandma's were on to something when they went to the salon once a week for a "set and style."  It has gotten to the point that my hair only needs to be washed once a week. It's fabulous. TRY IT. Grandma was RIGHT!
It took about 6 weeks to get to this stage but it was worth it, I now have a stylists that knows my hair super well because she works with it every week, and I don't have to buy shampoo and conditioner anymore because Ashley is the only one that washes my hair and uses the best product around!
Number 3
Sweat. REALLY sweat.
Andrew at Aspire Health and Performance once said to me that at the end of every training session I should not be able to leave the gym comfortable without taking a shower. I hold that in the back of my mind when I am training with Andrew or on my own. Basically 5 days a week I sweat for over an hour.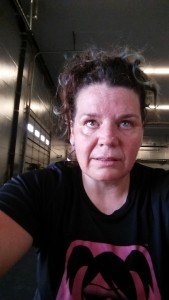 I sweat out anger.
I sweat out frustration.
I sweat determination.
I sweat to hide tears.
I sweat because I am alive and moving my body as well as I can to make sure I live the life I want to.
A few more reasons SWEAT is good for you.
There you go!
Three relatively simple things that have truly impacted in my life in a positive way, perhaps they can do the same for you!