Aspire Health and Performance Fitness Girl With Goals
I seem to have a bit of a love hate relationship with box jumps.
They kill me.
I look graceful as a wart hog in a tutu determined to dance swan lake.
It sure ain't pretty – but it is so much fun!
I have already written about some basic box jump confusion – For A Thigh Clapping Good Time
But this week things took a turn for a dramatic when my own body attacked!!
I am in the process of doing 50 box jumps ( not super high – 12 inches) when I start to get a stabbing pain in my eye!
WHAT! EYE PAIN!
A myriad of things go through my exhausted brain. Nerve pain? Perhaps I am jarring my eyeball with every heavy footed landing? Should I stop? Should I seek help? Is my eyeball going to fall out? What is going on!?!
Turns out; It's my pony tail. I kid you not.
It took me 2 more jumps to evaluate and figure out.
With every jump my pony tail was flipping over my head and the ends of my hair were stabbing me in my eyeball.
Obviously the answer was clear.
I needed to invest in goggles for my next set of box jumps. Luckily I had some in my gym bag!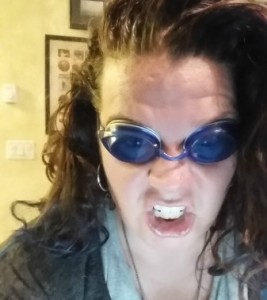 Okay… or I could just adjust my pony tail into that strange pineapple shaped thing that us long haired folk do at the gym when we mean business. 😉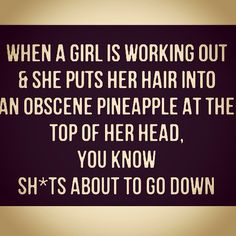 Problem solved!
A quick shout out today to Torri Gej who encouraged me to keep posting my adventures at Aspire Health and Performance as it is helping her keep her butt in gear as well! Thanks Torri! Also a big high five to #HusbandSteve and Lisa Breland who have been tackling the Aspire Training Camps on Monday evenings! They are just weeks away from starting the next set if you want to join them!