It took me FOREVER to finish this book.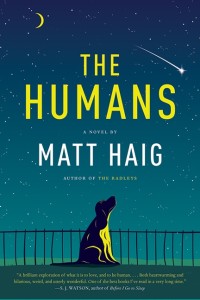 It's embarrassing because most people just LOVED it! People I consider "well read" declared it brilliant and people who rarely pick up a book found it fascinating! At first brush I loved the concept:
The critically acclaimed author of The Radleys shares a clever, heartwarming, and darkly insightful novel  about an alien who comes to Earth to save humans from themselves.  
Basically a mathematician discovers a formula that is the answer to everything. Aliens determine that we are not ready for the responsibility this knowledge holds and  send someone to make sure no one finds out about it. I thought this would open the door to a thoughtful book that would also contain wit and adventure. It did have it moments, but for the most part;  I was bored silly.
Based on the reviews you will enjoy this book… everyone else did.
Here is a book I finished in an afternoon!
I read this book because it was on a kindle "best of" list, it wasn't expensive and after a quick read of the what it was about I thought it was going to be somewhat a scify/fantasy" read or at least have a few of those elements. Truthfully I obviously didn't read the overview well at all, because it wasn't like that AT ALL.  Here is what it said:
When Brian finds out that his wife, Diane, is pregnant, he is elated. He's been patiently waiting for twelve years to become a father. But Diane has always been nervous about having children because of her family's dark past. The timing of the pregnancy also isn't ideal—Diane has just been promoted, and Brian is being called away to open a new London office for his company.
Fast-forward one year: being a mother has brought Diane a sense of joy that she'd never imagined and she's head over heels for her new baby, Grace. But things are far from perfect: Brian has still not returned from London, and Diane fears leaving the baby for even a moment. As unsettling changes in those around Diane began to emerge, it becomes clear that all is not as it seems.
A woman's dark past collides head-on with her mysterious present in this surreal and gripping family drama.
Turns out this book was an excellent page turner that explored postpartum depression and postpartum psychosis. I had figured out what was happening by about the half way point of this book, but I was enjoying the twists and turns so much that it was still a joy to read just to discover how in the world the author was going to bring it all together. Steena Holmes didn't disappoint!  
As a bonus: Steena Holmes is a Calgary author! Always nice to support someone local 🙂
Add The Memory Child to your summer reading list for sure!