Holiday Hurray Day 12 & 13!
This is so wonderful!!  It's a braille pendant with the characters saying "Hug" and "Kiss!"
Limited edition.
Plus a portion of sales will be donated to the American Foundation for the Blind.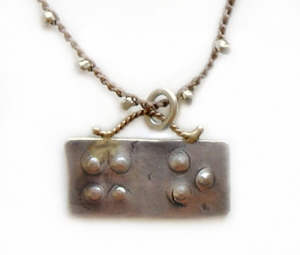 You will get a hug and kiss for sure if this is under the tree!
Now.. why was was Holiday Hurray off a day?
Because I was at a Chocolate and Wine party!
It was wonderful!!
But the hit of the party was: Tiger Butter!
Chocolate and Peanut Butter Goodness!!
Wanna try it?
Totally worth it!!
1 lb. white chocolate
1 lb. milk chocolate
1 c. creamy peanut butter
Melt white and milk chocolate separately. Add peanut butter to white chocolate. Pour together – do not stir. Pour into wax paper lined pan. Swirl chocolates together to get a striped effect. Let cool at room temperature. Turn out onto cutting board and cut into small squares.