Ariel, get you head out of the clouds and back in the water where it belongs! ~ Sebestian, The Little Mermaid
What an adventure it was! Last week "The Breakfast Club" was on the road, Dan, myself and our respective spouses all went to Disneyland. I was excited! I had never been to Disneyland for an extended stay, never mind to do a show in the front yard of Sleeping Beauty's Castle!
It was an outstanding trip!
Before we left our Disney representative Angela Saclamacis was on the search for the perfect 52NEW project. I had no idea what  I would be up to.
The plan? Awaken my inner princess. I had NO idea I even had an inner princess! While I like my bedazzler as much as the next girl I have never really been "girly girly", and don't really even have any "princess" memories from when I was a little girl, and yet, when asked to name the Disney Princesses in order…
Snow White, Cinderella, Aurora, Ariel, Belle, Jasmin, Pocahontas, Mulan, Tiana and Rapunzel. Whoa. Where did that come from?
Perhaps in side every little girl does live a princess! I can tell you that my favourite Princess is Ariel. Why? I love the water, I love the colour green, and I think like so many people I can totally relate to wanting something "more" and wanting to be part of something I wasn't. The whole fall in love and get the prince was always kind of second fiddle to just plain old being a rebel as far as I was concerned, but who doesn't want to make a huge sacrifice for the one you love? Perhaps that is just the drama Queen in me, but I still get it.  You can "google" the psychology of The Little Mermaid and find many other theory's as well but I think I will stick with those!
You want Thingamabob's, I got 20!
What I did get was a wonderful experience of the true magic of Disney. The little girls in the Bibbidi Bobbidi Boutique watched in wonder as 4 adults were made over into Princesses and Knights. Our hair put into buns and pink sashes put around us! Hidden Mickey's (no not those kinds of mickeys!) for the boys along with their shield and sword. We all had fun, and out Fairy Godmother's in training took it all in stride.
The Fairy Godmothers in training also reinforced some wonderful lessons!  We were reminded that a true princess has some wonderful characteristics:
Bravery
Determination
Kindness
Generosity
My FGIT left out a wonderful singing voice but I will forgive her..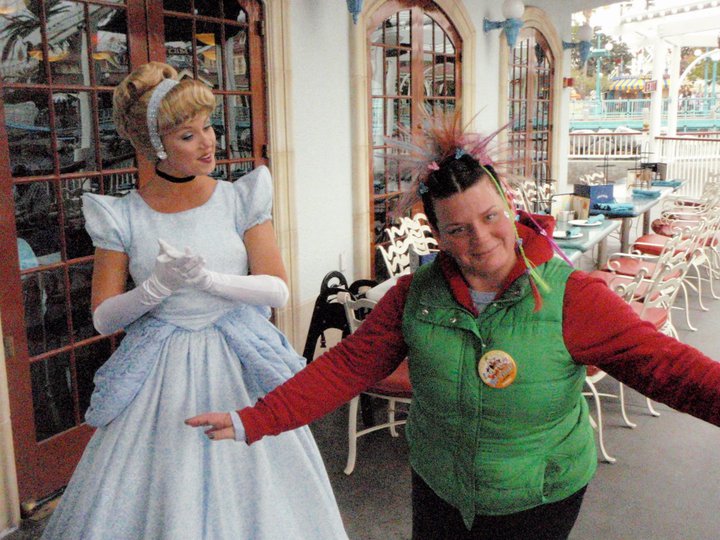 After our "transformation" we had lunch at Ariel's Grotto, where Cinderella taught me to curtsie!
The most important thing I took away from this 52NEW is that inner princess, is always waiting to come out and Disney has a wonderful selection princess to choose from for any occasion.. when you need her, your "princess power" isn't as far away as you think.
Bibbidi Bobbidi Boo may all your wishes come true!