Steve and I have decide that at least once a week we are going to make a point of experiencing something new. This week we have 2 events lined up, the first one was last night and it was wonderful!
We ran away to the circus! Actually, we took the C-train.. but you get the point.
Cirque du Soleil was in town with their production of Amaluna. I have been to a few Cirque shows and their ability to capture my imagination and take my breath away is always astounding!
Today at Up! Everyone who went to the show is talking about the woman who balanced the bones/branches.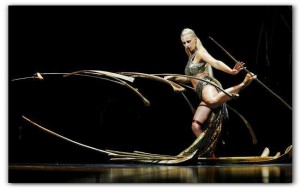 I was amazed with Lara Jacobs and the branches.. which to me seemed like bones. Picture the bones of a whale, some small some huge all scattered on the ground and you were picking them up piece by piece (with your toes) and putting them back together, without the use of ligaments and skin.. it was a huge feat of balance and grace! Cirque does an amazing job of showcasing the most amazing acts.. she was wearing a microphone and all you could hear was her breathing. All of a sudden it was clear. All those times you have heard someone say.. "just breath through it" be it for pain, focus or strength, it all suddenly made sense. We were captivated. Breathing with her and focusing with, and for her. The energy was fabulous.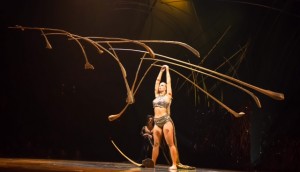 Please get tickets and enjoy all this wonderful production has to offer! I have only touched on one amazing act, the show has so many! I could write countless blogs from the girl on toe shoes walking the high wire, to the ladies flying through the air, the juggler, clowns, rope tricks, unicycles, thunder and lighting and fish tanks. Plus the MUSIC! It appeared to be an all female band that just rocked, it me there was a bit of a Prince influence.
Something else of note.  In the gym we often talk about the difference between strength and just looking strong. You would expect all these wonderful athletes and artists to look "ripped." Not so. They are all strong and powerful looking, from the tiniest to the largest but really only a few looked "ripped" a la selfie pictures your gym rat friends take of themselves in the bathroom mirror.
…. and if you are wondering.. yes I am working on a powerlifting act.. but I have a way to go.. 🙂 Like as in another lifetime..
LINKS:
Cirque Du Soleil ~ AmaLuna on Now until May 19th.
More on Lara Jacobs ~ Balance Goddess you can also find her on twitter: @swisslara
Just for fun: A few years ago I did get to go behind the scences with Cirque and have some fun on a trampoline and a few other things