A very young Susan Knight spent plenty of time on a farm in Ontario, riding, cleaning the stalls and generally loving life with horses. While Dressage was part of my training, I ignored it as much as possible.. it was BORING.. which should probable be translated into it was HARD with tons of attention to detail, which was not my strength! I loved to ride fast, jump fences and go exploring!
Dressage has a wonderful history with the Olympics and has been in the games since 1912. One of the things I love most about Equestrian events at the Olympics is that men and women compete on a level playing field and are not in different categories based on sex.
I was lucky enough to go to a beautiful facility called, Eureka Equestrian. This is a top notch facility! BEATIFUL barn and rings and even acres of trail riding! I rode a wonderful horse named Willow who was very patient!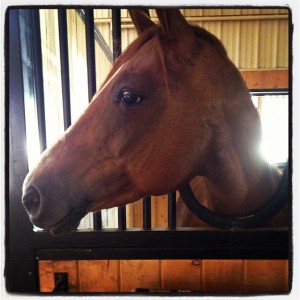 Jessica was my instructor and was as patient as Willow! It wasn't long before I could hear my old instructors Gwen's voice in my head! Head up! Look where you are going! TOES IN! (I heard toes in often in dressage class as a kid) It truly was a wonderful experience.  While I did flail a bit and certainly didn't have the skill I once did I was pleasantly surprised to discover that I still could ride and it came back pretty quickly!
I think come the fall I will be taking advantage of the classes they offer for people that don't own there own horses! After my time with Willow was done we had the chance to watch Patrick and his rider in action to demonstrate what it should look like! Check out this beautiful horse and rider at the end of the video below!
BTW: I was SO happy they had a mounting block. SOOOOOOO happy. I may have remembered some of the riding skills… but there is NO way I could of gotten up on my own!