I promised to share a few of the recipes I am trying this week… The first one is; Savoury Adzuki Bean and Mushroom Shepherd's Pie! You can find it in the Whole Life Nutrtion Cookbook. I strongly recommend this cookbook to anyone that is moving their diet towards "whole foods" and "clean eating."
Here is what it looked like: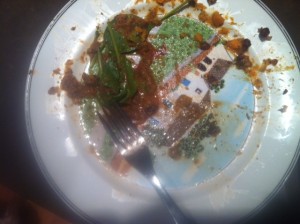 One small problem.. it was eaten very quickly and I didn't get the picture taken fast enough. It is pretty on a plate, especially next to the spinach salad because of the yams used on top.
Here is the recipe:
Serves 4 to 6
1 Tbsp extra virgin olive oil
1 medium onion
1 to 2 teaspoons of dried thyme
1 teaspoon dried oregano
4 carrots, chopped
4 celery stalks, chopped
3 cups chopped cremini mushrooms
2 cups water
1/2 cup chopped fresh parsley
4 cups cooked Adzuki beans
Sea salt and ground pepper to taste
Topping
3 large yams peeled and cut into large chunks
1/4 cup butter
sea salt to taste
Preheat oven to 375.
Heat a large 11 inch skillet over medium heat. Add olive oil and onions and sauté until soft, about 5 minutes. Add dried herbs, carrots, celery, and mushrooms. Saute for another 5 to 7 minutes or until vegetables are tender but not soft.
Add water, chopped parsley, salt and pepper to taste. Add beans and mix well. Simmer for a few minutes and then pour into an oiled casserole dish.
While vegetables are sautéing, place yams into a pot, cover with water and boil for about 10 minutes or until yams are soft and cooked through.  Drain off most of the water, reserving some.
Place the yams in a mixing bowl, add butter and salt; beat with electric mixture until light and fluffy, adding any reserve water if necessary. Spoon the topping onto the bean and veggie mixture, spreading it out as you go with the back of a spoon.
Bake for 35 minutes.