Christmas Countdown Holidays Music
This is a little pricey.. but what a cool gift for a music lover, or someone with a very snazzy sense of style!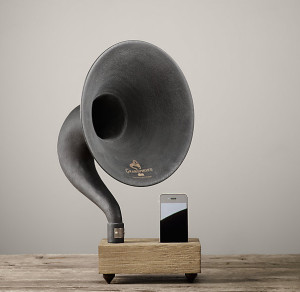 Sexy and practical! It's an iPod/pad/phone gramophone!
This Gramophone borrowed the speaker horn from Thomas Edison and mixed in today's technology.
Simply set your iPhone® in the solid wood dock, and the metal horn will boost its volume by three to four times, with no need for electricity.
You can get yours from Restoration Hardware.